CES 2019 Drone Highlights
Every year CES sets the global stage for innovation. It is the world's largest gathering for all those who thrive on the business of consumer technologies. With over 4,500 exhibiting companies and over 180k in attendance, CES attracts the world's business leaders and pioneers in technology. Drones are no different. Drones first made their appearance on the CES stage in 2015 and have been attracting attendees ever since.
The lead drone manufacturers – including DJI and Yuneec – exhibit every year and put on display their latest and greatest in drone technology. We've set out to highlight all the best drone-related takeaways from CES 2019.
One major notation – none of the major drone players launched a new drone. Semi-surprising, if you ask us!
DJI SMART CONTROLLER
DJI, the leading drone market share holder, launched the new Smart Controller. The Smart Controller allows pilots to fly the newest Mavic (Mavic 2 Pro and Mavic 2 Zoom) drones without a mobile device (smartphone or tablet). The Smart Controller features a 5.5" ultra-bright display screen and controls. The controller also allows for easier footage sharing - the DJI GO 4 app now features SkyTalk, which allows drone pilots to livestream their drone's feed to social channels.
SUNFLOWER LABS HOME SECURITY DRONE
Sunflower Labs showcased their latest technology in home security – Bee. Bee is an autonomous camera drone created for home security. Sunflower sensors learn your home's routine and can alert the homeowner to any suspicious activity. Further, it can activate Bee and send the drone to the scene to capture activity. When complete, Bee returns to its home. Bonus: Bee is self-charging and waterproof.
Please note: The Sunflower Labs system is not available for purchase yet. You can sign up for updates via their website.
YUNEEC NAMED AS CES 2019 INNOVATION AWARDS HONOREE
More specifically, the voice-enabled Mantis Q made the CES innovation short-list. The CES Innovation Awards recognize outstanding design across 28 product categories and an elite panel of judges review all submissions.
What makes the Mantis Q so unique? Voice control. The Mantis Q is the first to respond to verbal commands by its pilot.
For a full list of all CES 2019 Innovation Honorees – including product descriptions and photos – please visit www.CES.tech.
POWERVISION MARINE DRONE – POWERDOLPHIN
PowerVision extended its water drone offerings at CES with the PowerDolphin, PowerRay and PowerSeeker.
Wally Zheng, the founder and CEO of PowerVision stated, "The PowerDolphin is a new lifestyle robot that is not only for water sports, photography, and fishing. It is a product that will help a scientist explore marine life in many different ways. From ocean reefs to animal observation the PowerDolphin is a multipurpose tool."
And it definitely caught audience's eyes. One of the coolest features – the PowerDolphin has the capability to not only find fish, but lure them in.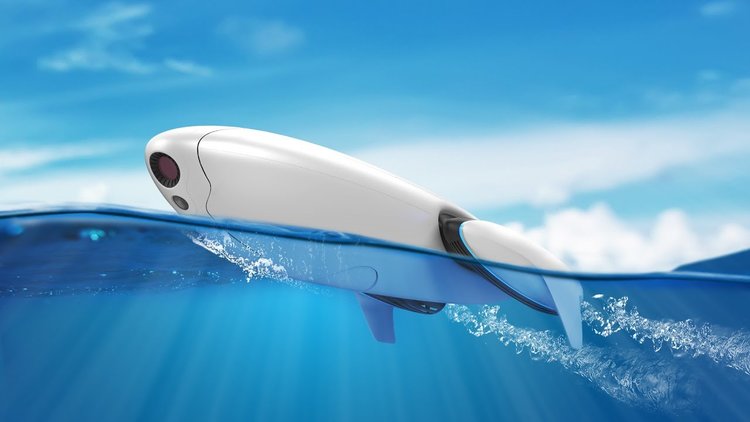 AIRSELFIE CAMERAS
One manufacturer who did present a new line up – AirSelfie. AirSelfie presented a whole new fleet of aerial cameras this year including the AIR 100, AIR ZEN, and AIR DUO. The cameras featured unprecedented autonomous flight, wide-angle zenith lens and water-resistant capabilities.

CES 2019 was a jammed packed show presenting the latest and greatest. It's only been a week, but we can't wait to see what CES 2020 has in store for us. What are your very early predictions?!